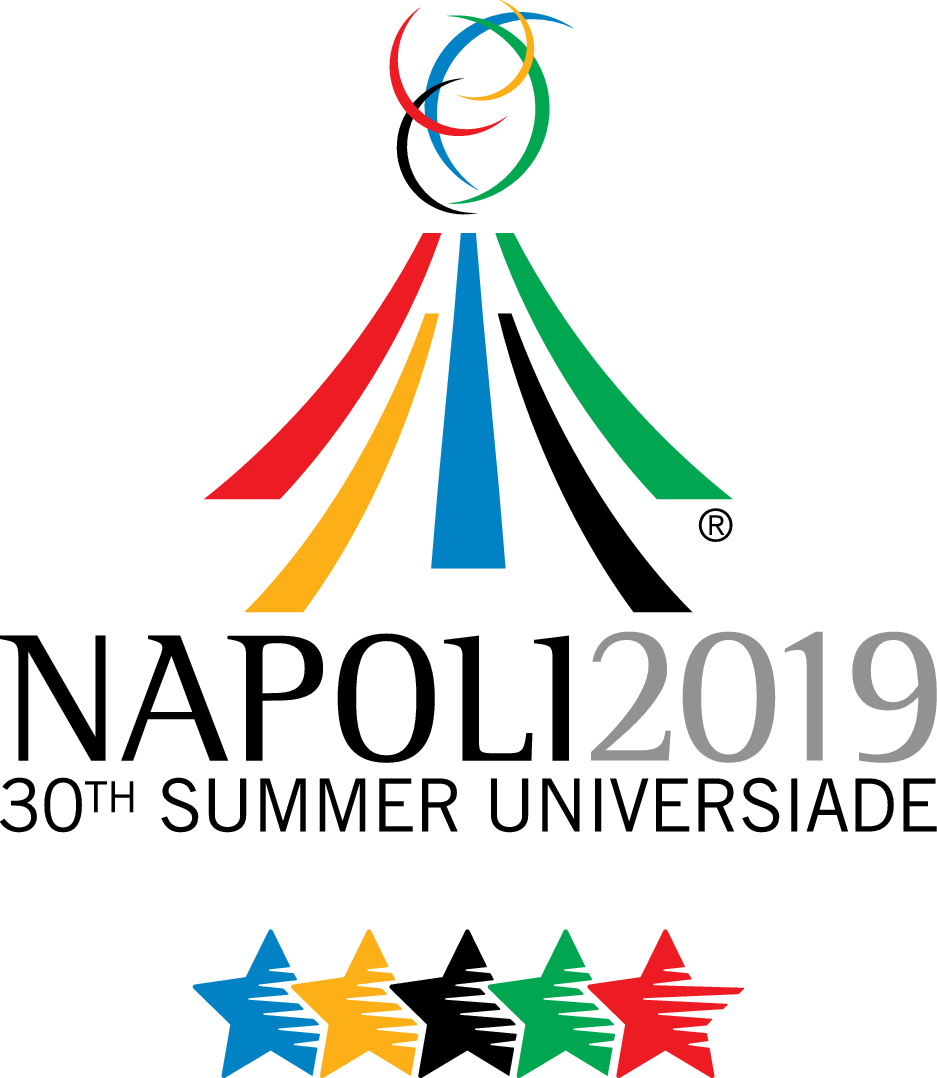 Weather Forecast for July 08, 2019
ENG Version
Current Conditions: the Campania Region is still affected by an anticyclone area, which determines stable atmospheric conditions. Therefore, in next hours fail weather will prevail in all open-air venues.  
Weather Bulletin for July 08, 2019: sunny on little cloudy conditions will occur in all areas of interest. It should be only highlighted the development of scattered clouds on coastal areas (Naples and Salerno) and Caserta plain in early morning and late evening.  
Hot weather is expected in all venues. Maximum air-temperature will occur in early afternoon (from 01:00 to 04:00 pm) and will range from 29 to 31°C (84–88°F) in Naples district and Avellino city, from 27 to 28°C (80-84°F) in Salerno city, from 32 to 34°C (89–93°F) in the Provinces of Caserta and Benevento, and from 30 to 32°C (86–89°F) in the inland of Salerno (Nocera-Pagani-Cava de' Tirreni).
Winds will blow mainly from southwestern, with an average speed ranging from 10 to 25 km/h (6-15 mph) in the coastal areas (Naples and Salerno district) and in Caserta plain, and from 15 to 30 km/h (9 to 18 mph) in inland sectors. In Avellino city, gusts up to 40 km/h (25 mph) are expected during the afternoon.   
Relative humidity percentage will range from 45 to 65% in the inland areas (Benevento and Avellino) and from 65 to 85% in the coastal sectors (districts of Salerno and Naples). Smooth sea is expected.
Special Warnings: in the early afternoon (from 01:00 to 05:00 PM), in the districts of Caserta and Benevento, the combination between heat and relative humidity will increase the likelihood of heat disorders with prolonged exposure or strenuous activity to the level "Extreme Caution". The latter means that sunstroke, muscle cramps and/or heat exhaustion are possible with prolonged exposure and/or physical activity.
Table forecast for competitions and training venues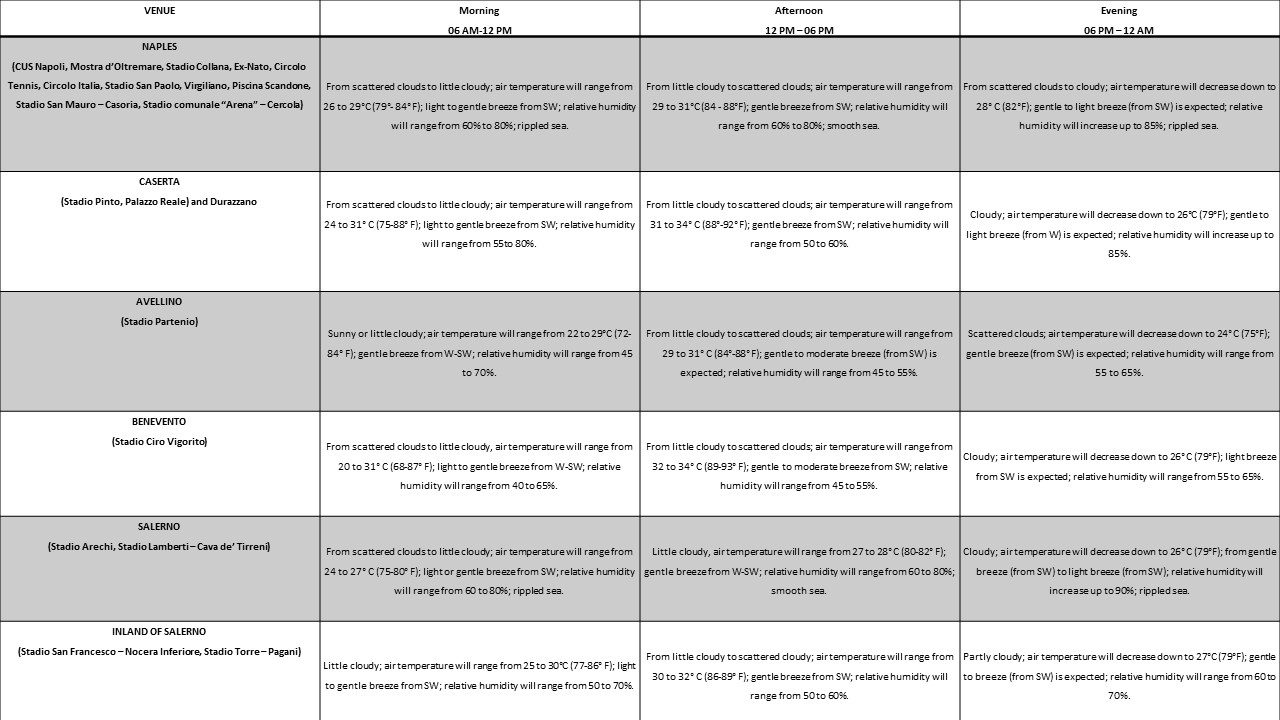 ------------------------------------------------------------------------------------------------------------------------------------------------------------------------------------------------------------------------------

ITA VERSION
Situazione attuale: l'alta pressione continua a recitare un ruolo di primo piano nelle vicende atmosferiche campane. Anche quest'oggi, dunque, prevarranno condizioni di bel tempo su tutti i siti di interesse.  
Previsioni meteorologiche per l'08 Luglio 2019: sul territorio campano si prevedono condizioni di cielo sereno o poco nuvoloso. Si segnala soltanto la possibile formazione, nelle prime ore del mattino e in tarda serata, di banchi nuvolosi temporaneamente più consistenti sulla fascia costiera (province di Napoli e Salerno) e sulla pianura casertana.
Le temperature non subiranno sostanziali variazioni rispetto a ieri. Il termometro, come di consueto, raggiungerà i valori massimi nelle prime ore del pomeriggio (tra le 13:00 e le 16:00), quando sono previste temperature variabili fra 29 e 31°C nella Provincia di Napoli e nella città di Avellino, fra 27 e 29°C nella città di Salerno, fra 32 e 34°C nel casertano e nel beneventano, e fra 30 e 32°C nell'entroterra salernitano (agro-nocerino-sarnese).
I venti soffieranno in prevalenza da sud-ovest, con velocità media variabile fra 10 e 25 km/h sulla fascia costiera e fra 25 e 30 km/h nelle aree interne. Nel primo pomeriggio, sono attese raffiche sino a 40 km/h nella città di Avellino.
Il tasso di umidità relativa, nelle aree interne, oscillerà fra il 70% delle prime ore del mattino e della tarda serata ed il 45% delle ore centrali della giornata; lungo le coste, invece, lo stesso varierà fra il 60 e l'85%.
Il moto ondoso si presenterà poco mosso o temporaneamente mosso nelle ore pomeridiane.
Segnalazioni per condizioni meteorologiche avverse: nelle prime ore del pomeriggio, nel casertano e nel beneventano, la combinazione tra elevate temperature e tasso di umidità relativa inasprirà gli effetti della calura diurna. In caso di prolungata esposizione e di intensa attività fisica, saranno possibili colpi di calore e crampi muscolari.
Condizioni meteo per i campi di gara e di allenamento